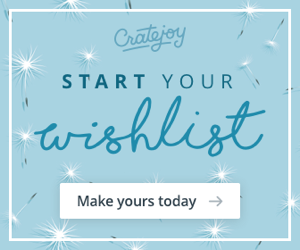 About: Cratejoy offers subscriptions for every type of lifestyle. No matter your interests, experts and enthusiasts will create and curate the absolute best products for your subscription box – and then send it right to your door every single month. 
These best selling boxes sold out like crazy. So Cratejoy is thrilled to tell you that they are all back in stock! Check out these fan favorites – and start checking off that summer bucket list – with these tried – and true boxes to treat yourself.
Cost: $44.50 every two months.
What's Included: My Be Better Box includes 6 high-quality products, a slew of wellness challenges, and anaccountabilitychartonabimonthlybasis.Even better? For every challenge you complete, My Be Better Box will donate to charity. Live your best life and better the world!
Shipping: ships in the U.S. between the 23rd and 25th of the month. 
2. Seacrate
About: Do you miss the beach when you can't be there? SeaCrate is the ocean and beach subscription box that brings waves of fun whenever you're not near the sea! Every month we search beaches and beyond to bring you the best nautical treats plus surprise beachy bonus items delivered to your door. Taste the ocean each month when your gift box arrives!
Minimum of 5 items per box
Each box features fun beachy items for home, bath or body- often featuring jewelry items, beachcombed treasure, bath and body ocean-themed products, sweet and salty treats and coastal recipes. Always bringing a bit of the beach to your door!
Cost: starts at $45.00 per month. 
3. MATTER
What's Included: A true grab bag of surprises, MATTER sends you 4-6 unique, hard-to-find scientific artifacts in every box. Each artifact – from fossils to metals, crystals to NASA computer chips – comes with an informational card to teach you more about the matter you receive.
Price: $39.99 per month
MATTER is a subscription box for curious minds. Each month, you'll receive a collection of materials, objects, specimens, or artifacts that have been carefully selected as some of the most interesting pieces of matter in our accessible universe. Part museum, part lab project, these items will feed your curiosity and help you spark someone else's.
As featured by Mental Floss and Buzzfeed
4-6 items every month, worth $50-60
Now with 100% recyclable/compostable packaging!
Recommended for adults or kids with adult supervision
Discover interesting pieces of the Universe
Shipping: Boxes ship on the 4th of the month. Ships worldwide from U.S.
4. THRONE Boxing Co.
What's Included: Treat yourself to your new beauty, wellness, and jewelry favorites with a THRONE subscription! Each box includes the best of artisan and name-brand products to help you upgrade your beauty routine, your home, and your self-care practice.
Cost: $24.16
Ships worldwide from the 11th to the 15th of the month
4. BOTI Box
BOTI (Beauty on the Inside) box is the perfect gift for tween girls ages 8-12. Each month's box brings a new theme of strength and empowerment, accompanied by curated health & beauty products, inspiration, jewelry and fun stuff to support that theme. A great gift for your daughter, niece, or a friend. Support her inner beauty!
Positive theme, quotes and/or art with every box to empower, support and promote her inner beauty
Unique and original, professionally curated and hard to find gifts for girls 8-12, she'll be watching the mailbox in anticipation!
Beautiful jewelry, accessories, and fun girly stuff
Bath and beauty products like lotions, balms and bath bombs to calm, relax and treat herself and promote healthy living
The perfect gift for young girls age 8-12, a fun way to discover new products and instill good values at the same time!
Price: Starts at $24.00 per month
Ships within the US. on the 4th of the month
7. International blessings
Price starts at $12.08 per month
A handcrafted monthly subscription box that EMPOWERS families around the world to break out of poverty through sustainable livelihoods. We believe in opportunities over handouts. Opportunity renews dignity, gives hope, and creates a better life. These are real people with real families. By subscribing your story is connected with their story.
3-4 items in every Box of Blessings; One item in the Favorite of the Month
Quality, handmade items
Empower families to create sustainable livelihoods
Confidence that artisans have fair working conditions & fair wages.
10% donation to poverty fighting causes with every Box of Blessings
Which box looks interesting to you?
Comment below.