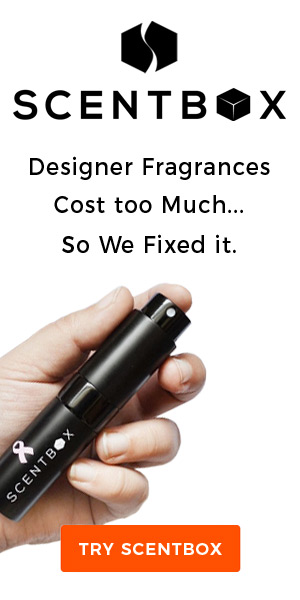 About: ScentBox– is a perfume and cologne subscription box. Every month you will receive a 30 day supply fragrance that you choose out of 575 different fragrances. There are two subscription options to choose from. They offer free returns or exchanges.
Cost: Starts at $14.95 per month
Your Scentbox will arrive in a padded envelope. 
Inside the envelope is a box with a magnetic closure with your fragrance inside. 
Inside the box was a coupon for 15% off a full-size bottle. 
I went with the Premium subscription, which gives you more option as far as fragrances to choose from. 
You will receive the fragrance holder for your fragrance. It twists up for the fragrance to pop up. 
The fragrance pops right out to change for the next one. I went with Angel Muse Eau De Toilette by Thierry Mugler. I really like this scent. It is very light and smells amazing. You can take this anywhere with you. You also can add fragrances in a que to have them send that scent to you next.
To save 35% off your first order use promo code SCENT35
Overall Verdict: I love perfume!! I think that this is an amazing deal. This will last me longer than 30 days, so the price is perfect, plus the holder protects it.
What do you think about Scentbox?
Comment below.
This post may contain referral/affiliate links.
Check out Day Designer Planners here